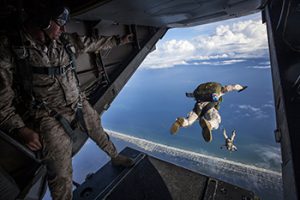 Here's some battle-tested and doctor-approved advice to fighting back when the cold and flu mount their attack.
If the influx in the sniffles, sneezes and snotty noses was any indication – the cold and flu have made their way into north Texas. Maybe you've heard a cough here or there… Or maybe you feel surrounded!
I've seen several people in our clinic with respiratory infections and viruses thanks to this cooler, damp weather. Here's some of the advice I share when I meet with someone who's dealing with cold and flu symptoms.
Your first line of defense is to wash your hands.
I know, it seems so simple, right? Waging war against the common cold and other illnesses all starts with washing your hands.
The easy explanation is that viruses and infections spread when someone who is sick coughs or sneezes. If you're squeamish, do a 180-degree turn now… Small droplets with germs land on door knobs, telephones, office supplies and anything else with which you'll undoubtedly handle. And voila, the cold and flu are passed from person to person.
When washing your hands, use soap and warm water. Do this often throughout the day, as the fall and winter months are host to all sorts of airborne yuckiness (medical term.) This step alone will help you curb the cold in most instances.
Are your comrades sick? Take cover.
If you've come in contact with someone who has a cold or influenzas, you should do what you can to stay clear.
If you are feeling sick, it's best to avoid going to work, school or running errands, as it's easy to pass along germs that could get others sick, too.
If you start to get a stuffy nose, scratchy throat or a cough, it's most likely an upper respiratory infection. Take it easy, get plenty of rest and let it pass. If you think you have the flu, call your doctor to come up with a strategy for treatment.
So what if you need to call in the reinforcements? Here's what I'd suggest.
Okay, so you've already contracted a case of the sniffles and sneezes of your own – now what?
There are a few over-the-counter medicines that may come to your aid should you find yourself under fire.
For aches, pains and headaches, acetaminophen (or ibuprofen) will often curb your symptoms. I do caution you with acetaminophen, though, if you have chronic kidney, liver or heart disease. Lower dose limits may apply for those with chronic liver problems.
Guaifenesin is a mucolytic. This means that it thins out thick mucus so you can clear it from your head or chest, either by coughing, blowing your nose or just drainage down the back of your throat. As the damage heals, this all tends to slow down.
Decongestants help shrink the swelling of the injured lining of your nose and sinuses. Over-the-counter decongestants can help. Two oral formulations are available, but some caution applies. They can keep some awake at night if taken after 6 PM, and side effects like palpitations, and jitteriness have been described. Check with your doctor if you have hypertension or heart disease before using these. The two oral decongestants available over the counter are pseudoephedrine (Sudafed) and phenylephrine (Sudafed PE). I recommend phenylephrine as it is the least offensive when it comes to its side effects. Plus, pseudoephedrine is what methamphetamines are made from.
Finally, an over-the-counter product containing Zinc has been thought to prevent or lessen the severity of viral colds if it is used upon known exposure or early in the course of the illness.
Our best advice if you come down with the flu? Seek medical attention within 48 hours, as this allows you to get the benefits of available medications.
A word on antihistamines…
Some ask about antihistamines such as Benadryl or Claritin. I believe in general these should be reserved for sinus symptoms related to allergies. In fact, some suggest that these may thicken the secretions caused by infections and make it harder to keep the symptoms under control.
Fighting the cold and flu this season
I hope this gives you some strategies and tactics to counter an attack from the cold and flu this year.
If you start to come down with a cold (or even worse, the flu,) give us a call at 682-238-3090 any time to schedule a quick, 15-minute appointment. Remember: We're a cash-pay option for those with no insurance or a high-deductible plan (and we keep our prices in reach so that you can stay healthy – without breaking your budget.)