Hi, and welcome to YourFamilyDoc Arlington. I believe the key to living well is having the right plan and advice to take care of yourself. I want to be more than just your doctor – but also someone who can unpack the science, offer the motivation and help you troubleshoot along the way.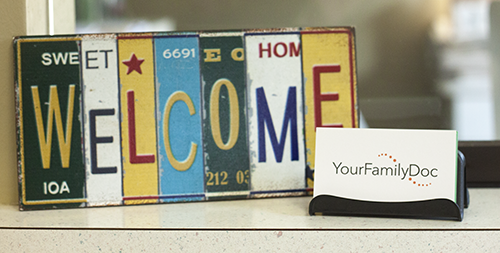 We started YourFamilyDoc Arlington to put you (the patient) back in control of your care. Sadly, today's healthcare system lets insurance companies and corporate suits tell doctors how to provide for their patients… and we just couldn't play that game anymore.
YourFamilyDoc Arlington is a cash-pay clinic that offers big city medicine with a small town feel. Browse our website, give us a call and drop by to see how we're a different kind of healthcare – just right around the corner.
Why choose cash-pay healthcare?
When cash, not insurance, is the currency for care, your doctor has the flexibility and freedom to truly hear and help you. YourFamilyDoc Arlington is a cash-pay family practice built to serve the health and wellness of our neighbors.
We believe the cash-pay model makes sense for patients and providers alike because it removes the business, the bureaucracy and burden insurance providers and businesses have put on doctors over the past few decades. You deserve time with your doctor and get the care you need to live your life to the fullest potential.
Cash-pay means you pay less money for healthcare – especially compared to an insurance policy with a high deductible.
Cash-pay healthcare also means you aren't rushed out of the exam room because your doctor needs to scurry to their next 10-minute appointment.
Cash-pay providers also don't require the paperwork and red tape often required of traditional medical practices. Less paperwork is better for everyone.
Cash-pay doctors also tend to negotiate better pricing for imaging, lab testing and other diagnostic needs.
Cash-pay medicine allows you to see your doctor more frequently – meaning you're less likely to have more involved, more expensive medical needs down the road.
We believe cash-pay medicine will save you money and provide a higher quality of care. Do you have questions or want to know more? Give us a call or send a quick message.
Benefits of becoming a member partner of YourFamilyDoc Arlington
Whether it's a cough, congestion or an achy whatever, you can rest easy knowing you have a doctor and clinic at your side – anytime.
When you join YourFamilyDoc Arlington as a member partner, you get on-demand, ongoing care from Dr. John and our family. If you're sick, want advice or just need a second opinion, call us or make an appointment. We'll get you in and get you back to what you do best!
Same-day appointments for all ongoing primary care and in-office procedures.
Annual physical and blood work included.
Concierge care when working with specialists and other providers.
24/7 access to medical advice.
YourFamilyDoc for Businesses
Despite the "Affordable" Care Act, healthcare in our nation is far from affordable. In fact, Mr. Obama's signature legislation has added tremendously to the expense of doing business, and physician time is increasingly being consumed by activities that do not involve patient care.
We care about the needs of small businesses like yours. (Heck, we are a small business like yours!) YourFamilyDoc Arlington can partner with you and your employees to offer care and coverage that's more flexible, more dependable and more affordable than traditional coverage. Get in touch to learn more about services for businesses.
Have a question?